Since 2015, San Diego State University (SDSU) campus planners have made a concerted effort to improve the overall campus landscape and site experience. We are fortunate to have designed over 15 projects that are part of a campus beautification effort, fulfilling the university's goal. The landscape is becoming a unique experience that students and educators proudly connect to.
The decision was originally spurred by a desire to add a tree canopy, reduce unusable turf grass areas and create a uniquely Southern California landscape experience that incoming students expect from a San Diego university campus.
Our efforts have led to the addition of hundreds of new trees and the transformation of thousands of square feet of unused turf into usable social gathering spaces.
Our Approach, Driven by Purpose
Conversations during the beginning of the process with campus planners and architects brought up key questions that guided our approach. These include:
• What defines the SDSU campus experience?
• What does a prospective student or educator expect from the spaces?
• Does the campus have a theme? Should it?
• Does the campus foster a healthy learning experience?
• What are the constraints and opportunities to be considered?
• Are current site practices sustainable?
• Are there operational measures that could be explored for improvement?
Campus planners have been actively working toward a stronger, more well-defined campus theme, focused on Spanish Colonial. However, some eclecticism is inevitable since there are varying styles of existing building structures. We concluded that it was crucial for us to give special attention to the daily student/educator experience. Our holistic approach ensured that there would be a unified experience across the campus. Therefore, continuity of landscape/site elements was critical.
At the direction of Robert Schulz (Associate Vice President of Real Estate, Planning & Development), Laura Shinn (Director of Planning) prepared the "Campus Design Principles and Guidelines," which were adopted on June 6, 2017. The McCullough team consulted on developing the "Landscape and Site Elements Guidelines," which outlines the principles used to design the campus landscape.

Centennial was the First
The first project McCullough completed was the Centennial Mall improvement. Through 2019, our completed projects include:
• Olmeca Hall improvements
• Villa Alvarado housing entry
• Montezuma Road
• East Campus Drive
• The Alumni Center
• The Love Library
• Aztec Walk East
• The "Student Garden" (collaborated with campus students and part of a sustainable site grant)
Other sites we reimagined (slated for possible future development) are:
• Hepner Hall
• Police Headquarters
• Aztec Mesa
• The School of Speech, Language and Hearing Sciences
• The Mediterranean Court
• The Arts District
• College Drive
• Campanile Mall
• The ENS Courtyard
• The University House


SDSU East Campus
In addition, McCullough has been engaged in a full campus site update for the SDSU Calexico campus. Calexico is a largely underserved community located in the Imperial Valley, on the U.S. Mexico border east of San Diego.
As the SDSU campuses continue to transform, we are excited for students and educators to benefit from renewed spaces that are sustainably designed to suit their needs and lifestyle. The distinct look and feel gives them more than just another college campus.
David McCullough, PLA, ASLA
Principal Landscape Architect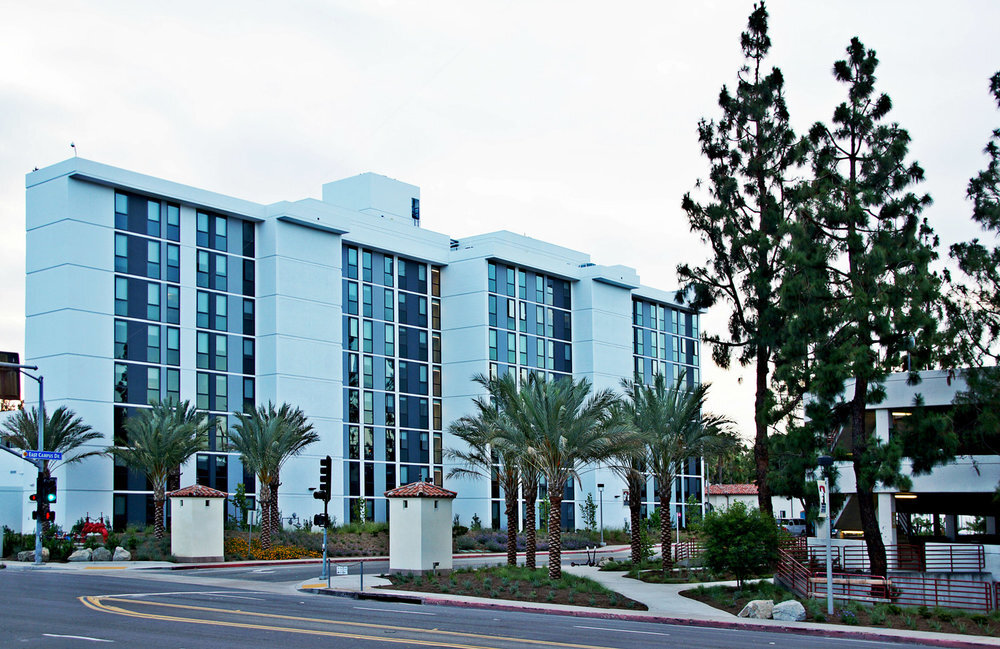 Forecast for Construction and Development for America's Finest City
Principal David McCullough will be moderating a panel hosted by Bisnow on September 26. The event, titled San Diego Construction and Development Summit, will answer relevant topics such as:
• What are the major projects coming up?
• What are market leaders doing to attract major tenants?
• How can San Diego compete with other regional markets?
All of this and more will be answered by a stellar panel of development, construction and real estate professionals.
Part of our mission at McCullough is to be a part of the conversation on urban planning and renewal; therefore, we are a sponsor for this informative event. We hope to see you there!