Bringing Exotic to University Heights
Exotic Gardens is part of a new wave of urban infill developments joining the skyline of University Heights on San Diego's eucalyptus-lined El Cajon Boulevard. This apartment building's name is inherited from the rare-plant nursery that previously occupied the site. In addition to the name, the building also inherited plants from the nursery. Psychedelic-looking euphorbia and stately ponytail palms punctuate the building's dual street fronts. Instead of ending up in a collector's private garden, these spectacular specimens provide a neighborhood sidewalk landmark.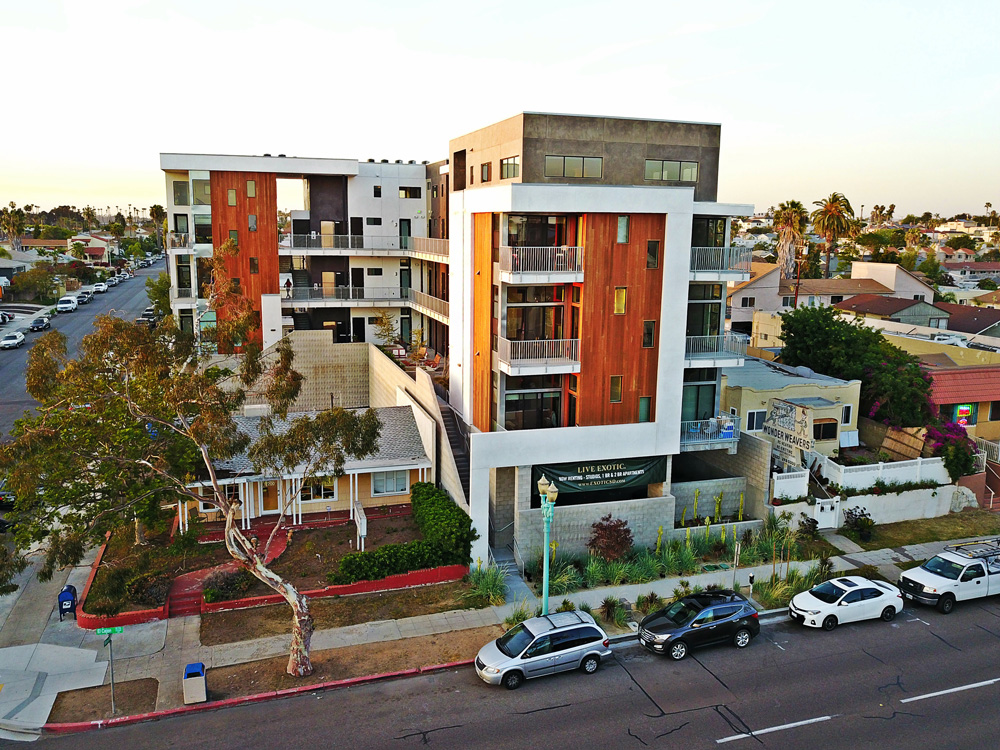 The development structure forms an L-shape around a courtyard elevated one story above the street. As a mostly low-rise neighborhood, this yields broad views from the courtyard out towards the south and west.
As the sun falls in the sky, its rays catch the spikes of the courtyard's golden barrel cacti giving them an electric glow. The cacti are kept company by tousled orange sedges and bold foxtail agave. The courtyard is anchored at either end by rare, shockingly colorful Yellow Fever acacias from east Africa. These unique trees, studded with menacing spines, bookend a large communal fire pit. Its broad, smooth concrete surface allows guests to lounge right on top of it, snuggled up to the dancing flames. Nearby, Madagascan ocotillo stand like sentries at the stair leading down to the street.
This project makes a strong statement with very little actual landscape area. Luckily, we had the privilege of using rare specimens that were passed down to us. The quality and unique character of these plants make Exotic Gardens truly live up to its name.
Benjamin Arcia, M.U.D.
Senior Associate
Join Us for a Night of Awards and Celebration
We are proud Silver Sponsors of the San Diego Business Journal's 4th annual Best Real Estate Deals of the Year Awards. The event to be held April 18th at The Westin San Diego Gaslamp Quarter recognizes real estate deals and dealmakers as well as tenants, investors, financiers, civic leaders, architects, designers and construction companies.
Congratulations to all of the finalists!
McCullough is honored to have been included in the LUXE Interiors & Design Gold List for 2018.
The Gold List Party had us reveling the night away! We lived it up as one of the chosen few landscape architect firms to make the esteemed list.