Engaging Organic Design for a Dense Urban Community
Millenia is a 210-acre multibillion-dollar urban-style development in the heart of the Otay Ranch Master Plan area, spanning 80 city blocks. Genesis at Millenia by Meridian Communities is a residential development in the heart of the Master Plan area. It is comprised of four individual lots totaling over 12 acres with the future South Bay Rapid transit line bisecting the community. Genesis at Millenia offers 200 multi-family attached units. McCullough Landscape Architecture was selected to develop the interior and exterior landscaping, excluding perimeter slopes, and to design all amenity spaces for the community.
Working within a dense residential development does pose its challenges, especially when the goal is to maximize the amenities provided to its residents. We set out to weave a long list of amenity spaces throughout the community, all the while being sensitive to noise considerations, unit views, accessibility, cost and creating spaces useful to a vast range of age groups. Three separate amenity spaces were laid out.
The amenity spaces include these features:
Two tot lot areas with shade coverage and seating
A linear "parklet" accented by a bioswale feature for storm water drainage, which has several bridge crossings as well as a contemporary shade structure spanning the swale
A community recreation area including a pool and spa, built-in BBQs, a fire pit and a covered dining area
A large, multi-use, indoor/outdoor building providing a fireplace, dining deck and BBQ uses
Raised garden beds for growing edible landscapes
Two large multi-use lawn areas great for community gatherings or active play
Several orchard tree planting areas
Two perimeter trails for walking and/or exercise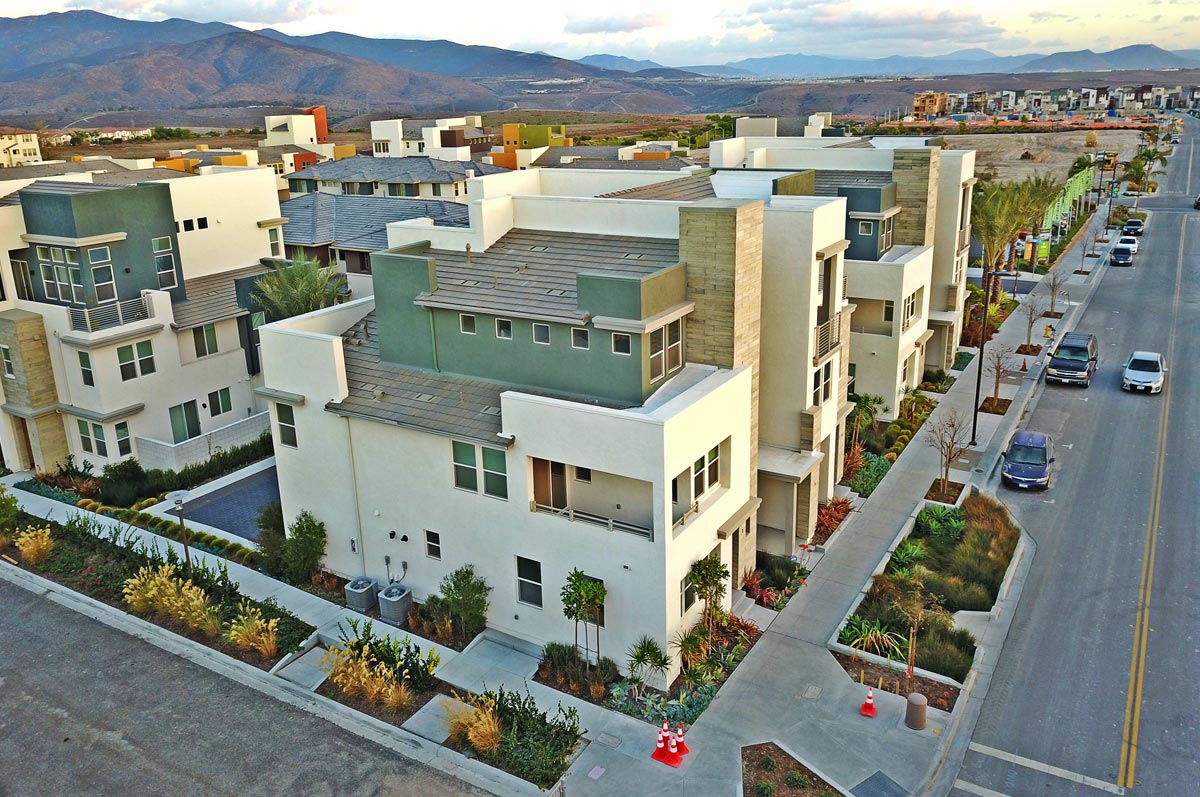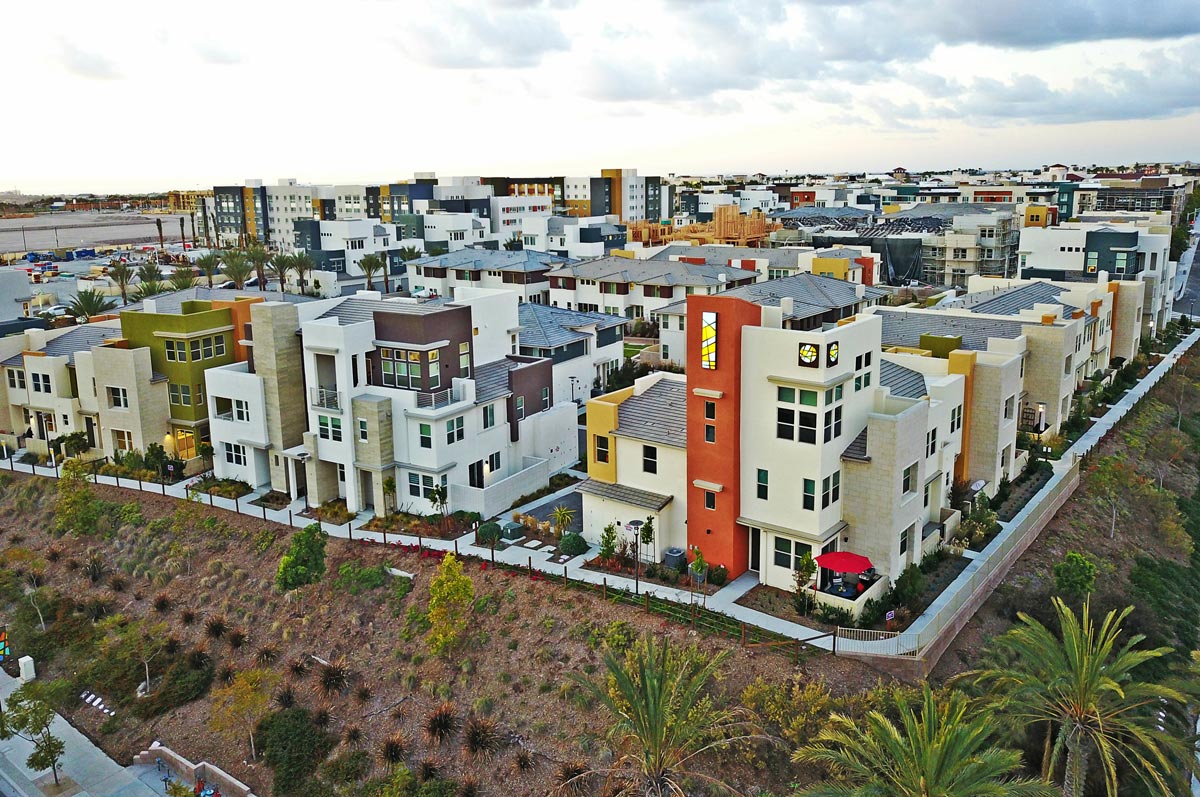 We were thoughtful in designing the planting for this project, telling a "modern-meets-organic" storyline. As the project is urban in nature there are inherently ample amounts of hardscape in the way of roads, parking, building faces and of course, a lot of utilities. This highlights the importance of our planting design to balance out these hard edges and work to screen views as necessary. It was critical for the planting to be pedestrian in scale; we steered away from the trend to "plant in masses," and instead designed the palette to be enjoyed up close by residents, providing a "homey" yet structured feel. What might seem to be unplanned and a seemingly random mix of plant texture, color and size was actually designed with care by our team.
"The beauty of landscape architecture is the ability to integrate the challenges and restrictions of a site into a functional and comfortable, yet beautiful space."
The project is being developed in phases with several amenity areas now under construction. Lots 7 and 8 will begin construction in late 2018.
Shawna Bortolussi, RLA, LEED-AP
Associate Landscape Architect
McCullough Chosen by Gafcon for Shanghai Development
McCullough is proud to have been selected with other local firms for Gafcon's new waterfront residential community project in Shanghai, China. The Zizhu Purple Bay development builds on the vision of 70-acre Seaport San Diego, spanning 800 acres along the Huangpu River and will feature yacht homes, condos, a nature and education center, an aquarium and a botanical garden.
The talented team for Gafcon's project also includes San Diego's AVRP Skyport architects, Moffatt & Nichol marine engineering and OdySea Aquarium.
"This is a legacy project at a tremendous scale. We are essentially building a new city from the ground up."
- Gafcon CEO Yehudi "Gaf" Gaffen